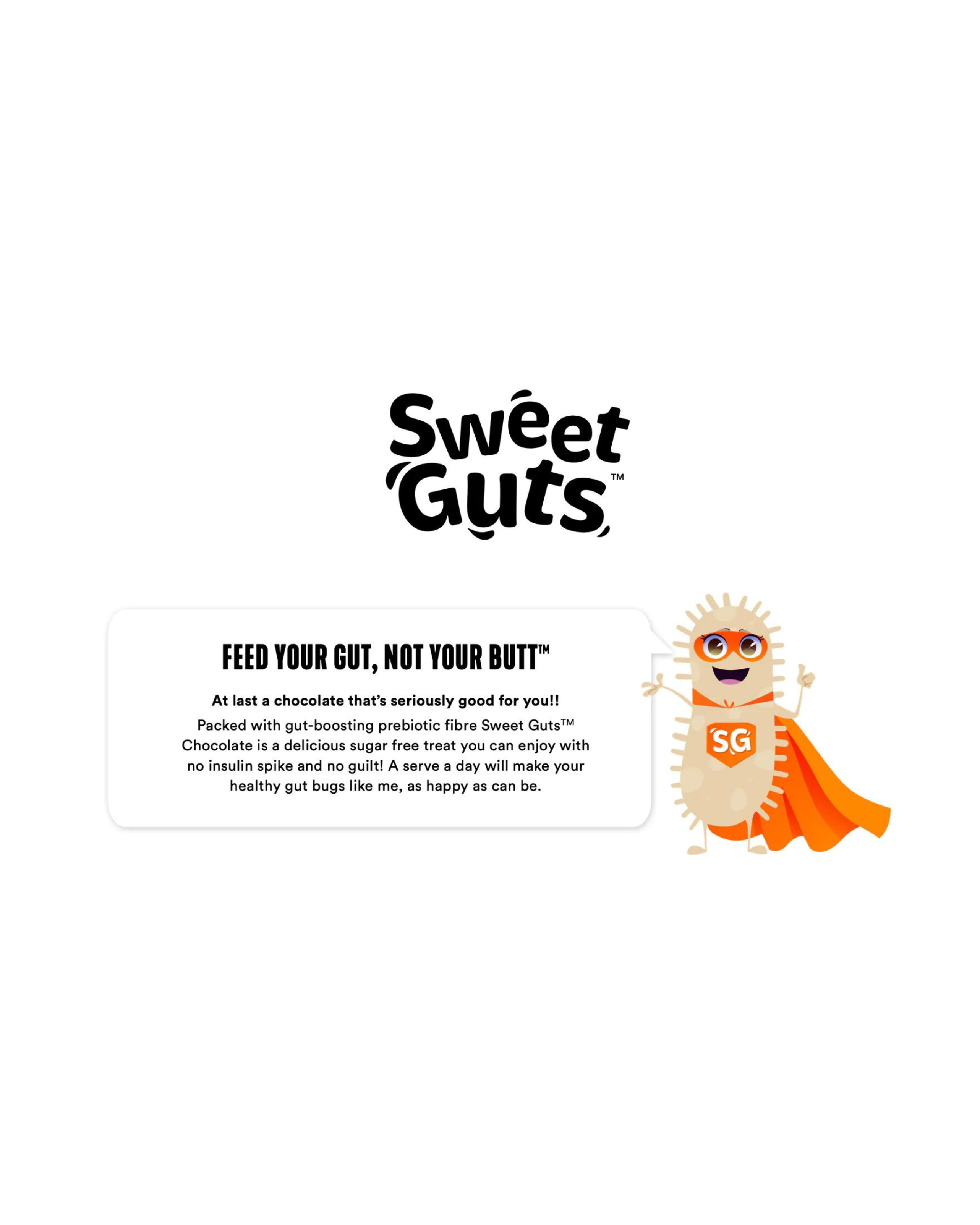 Sweet Guts Chocolate | Gevity
Finally a chocolate that is SERIOUSLY good for you and your gut!
Nothing plain or regular about our Sweet Guts™ Chocolate.  Smooth, creamy and so delicious you might wonder how it could be healthy!?  Making uber healthy food that  also tastes incredible is our superpower so enjoy this sugar and dairy free gut loving treat as often as you like!
Smooth, creamy, sweet and ultra satisfying! Classic "milk" chocolate taste, but with clean ingredients and NO dairy. Your tastebuds will flip when this hits them! 
FAQ
How much can I consume?
With no sugar and more fibre than the average serve of broccoli you don't need anyone bringing you down with serving sizes.. Eat a row, eat a block if you feel the urge but you probably won't do that more than once. Why?  Because it's the sugar in regular chocolate that keeps you binging and addicted and Sweet Guts™  doesn't have any of that!  Sweet Guts™ will curb your sweet craving stat and you will find you won't want to eat as much Sweet Guts™  as you do other chocolate. 
How much should I consume?
This is chocolate you actually SHOULD consume daily - no sugar, no bad stuff and packed full of prebiotic fibre that you need for your gut bugs (and you) to thrive!  A couple of squares, a row or three - listen to your body and go with what is right for you.. guilt free!
My kids are addicted to sugar - could I replace their regular chocolate with Sweet Guts™ ?
YES absolutely! Sweet Guts™ contains no sugar, no nasty sugar alcohols (which can wreck little - and big - people's gut), no dairy or any other nasties.  Sweet Guts™  is a delicious and healthy treat you can give to your kids and feel good about it.  Not only will you be actually improving  their gut and avoiding insulin spikes and sugar crashes, but you will be helping them kick their sugar addiction. 
Ingredients
Ingredients: Cacao (Min. 65%; Cacao Butter, Cacao Mass, Cacao Powder), Coconut Milk Powder, Chicory Root (Prebiotic Fibre), Inulin (Plant Based Prebiotic Fibre), Cassava Flour (Fibre), Sea Salt, Natural Vanilla, Sunflower Lecithin, Monk Fruit. 
Sweet Guts Chocolate | Gevity