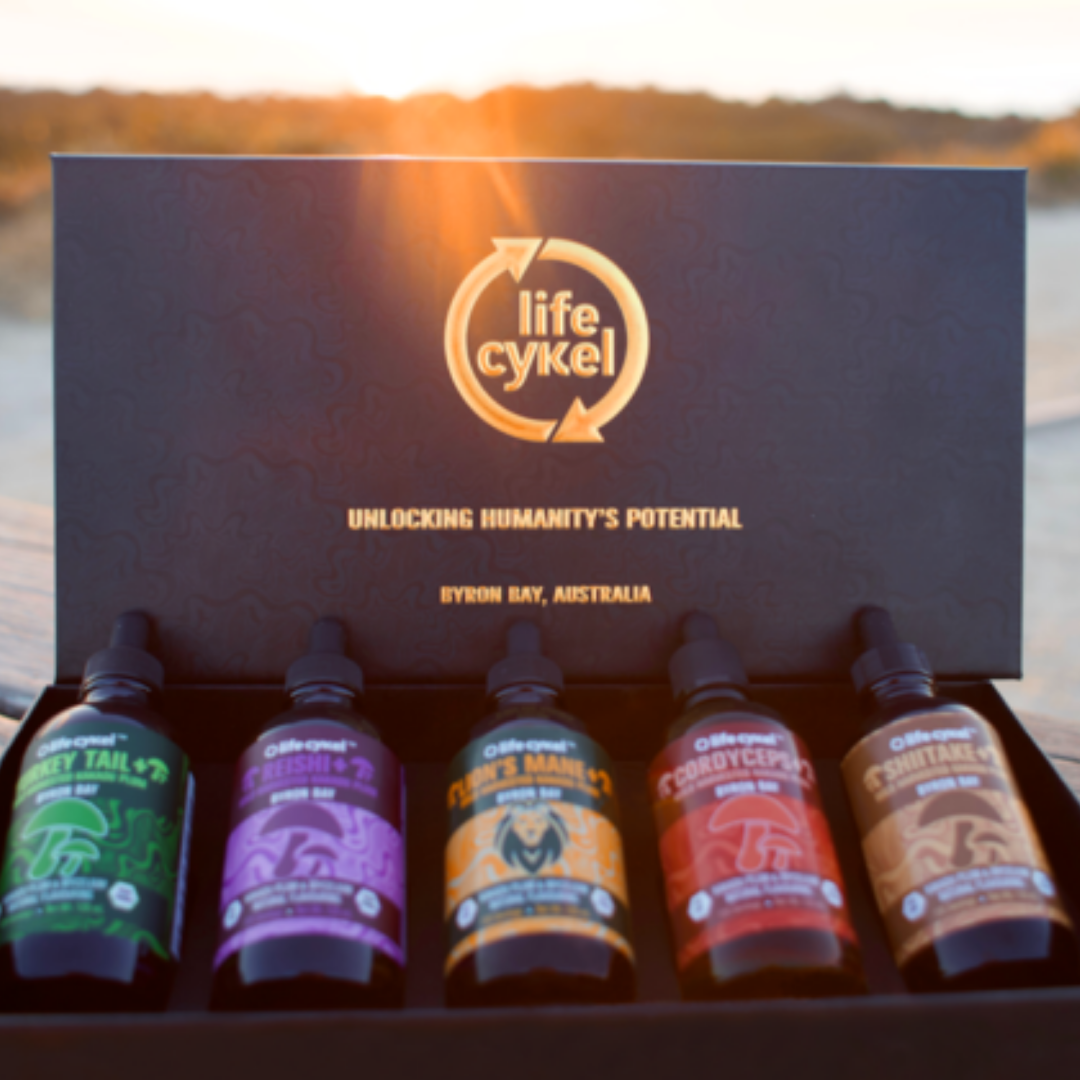 Biohacker Set™ of 5 Liquid Extracts
Original Biohacker Set™:  Includes the following Double Liquid Extracts:  

1. Lion's Mane
2. Cordyceps
3. Turkey Tail
4. Reishi
5. Shiitake
Product Info
This set comes in a stunning box to keep your extracts safe. Also included is a guide on each mushroom in the set, suggested schedule and how to use them. 
Bottle sizes: 60ml (30 day supply - 2ml per day)
Benefits
Improve mental clarity and focus
Improve sleep
Non GMO
Made in Australia and the USA
These products are extract flavourings
Gluten Free
Use
Add Lion's Mane liquid double extract directly to your coffee, smoothie, tea or water best results. Serving Size: 2 ml - 1/2 a dropper full is approximately 1ml, you can use this as a guide for the recommended serving size.
Storage: Store in a cool, dry place
Ingredients
INGREDIENTS: Distilled Water, Organic Alcohol (30%), Cordyceps militaris(Cordyceps militaris. Fruiting Body), Natural Wild Harvested Kakadu Plum
INGREDIENTS: Distilled Water, Organic Alcohol (30%), Australian Hericium coralloides (Hericium coralloides Mycelial Biomass, Hericium coralloides Fruiting Body), Natural Wild Harvest Kakadu Plum
INGREDIENTS: Distilled Water, Organic Alcohol (30%), Ganoderma lucidium (Ganoderma lucidium Mycelial Biomass, Ganoderma lucidium Fruiting Body), Natural Wild Harvested Kakadu Plum
INGREDIENTS: Distilled Water, Organic Alcohol (30%), Australian Trametes versicolor (Trametes versicolor Mycelial Biomass, Trametes versicolor Fruiting Body), Natural Wild Harvested Kakadu Plum
INGREDIENTS: Distilled Water, Organic Alcohol (30%), Lentinula Edodes (Lentinula E. Mycelial Biomass, Lentinula E. Fruiting Body), Natural Wild Harvested Kakadu Plum
INGREDIENTS: Wild harvested dried Chaga (Inonotus obliquus) (sclerotia) extract, wild harvested Kakadu plum extract, purified water, alcohol (alcohol content by volume 20-30%) 
Note
These statements have not been evaluated by the TGA or FDA. This information is not intended to diagnose, treat, cure or prevent any disease. This product cannot be returned once opened or used. This product is excluded from the Tolman Self Care Dollar Reward Program. 

Biohacker Set™ of 5 Liquid Extracts
FAQ
What ingredients do you use in your personal care and wholefood products?
Essential Self Care is a pioneer in nature-made products. Ingredients are locally sourced where possible. For a detailed description of the ingredients in each product we offer, please review the individual product description.
Do you have a rewards program?
Yes, we sure do!

Self Care Dollars is our loyalty rewards program for our valued Essential Self Care customers.
The program rewards you by automatically earning you dollars (points) every time you place an order for signature products in our store. You can then redeem points for a future purchase once you have accumulated enough Self Care Dollars in your account.

We have lots of information on how our rewards program works here.
What are your most popular products?
As a family owned and operated team, we have worked tirelesly over the years to create a range of very popular self-care products we believe every home should always have on hand.

These popular products can be found in our Signature Collection.
I'm not sure if a product is suitable, can you help me?
We have an enormous customer review section on our website where you'll find REAL reviews from REAL people. This is a great way to see feedback from others memebers of our community and can help you determine if a product is up your alley.

Alternatively, we do our best to provide lots of detail in the product descriptions on our website with product usage reccomendations, ingredients and more.

If you have further enquries, please feel free to reach out to our friendly team and we'll do our best to help.
Shipping
Australian Orders
For deliveries within Australia, parcels are shipped with Aramex and Australia Post, depending on whether the address is local, remote or listed as a PO Box. Shipping is $9.90 for Australian orders below $199. It is FREE for orders over $199.
We also offer express shipping as an optional service when you reach the checkout. For more info, please click here.
International Orders
For international deliveries, parcels are shipped with Australia Post International.

We offer FREE international shipping for international orders over $500.

For international orders less than $500, shipping charges vary and are calculated at check out by Australia Post delivery rates based on parcel weight. For more info, please click here.

More Info
Family Owned & Operated
We're an Australian small-business that believes in the power of self care as a foundation for everyday health and wellbeing. When you shop with us, you're supporting our local family business - Thank you!
Save Time & Shop With Our App
Enjoy our quick and easy checkout system by placing your order via our app (now, or next time)! Keep track of past orders, receive limited time offers plus so much more! Available on iphone and ipad only at this time.
Save $15 OFF First Order
To receive $15 off your first order and to receive our free weekly blog content and special product offers, simply join our community via the opt in at the bottom of this page.
Customer Reviews
08/26/2020
Louise E.
Australia
Another great product!
The title says it all, another product from Tolman Self Care that doesn't disappoint. My teeth appeared whiter after a few uses and gum sensitivity has reduced significantly. Can't wait to keep using!
08/27/2020
Tolman Self Care
What an amazing review Louise! So glad to hear you're loving it!
05/13/2020
Alison L.
Australia
Excellent products
Ease of shopping online and efficient and secure checkout, with quick delivery
05/05/2020
Katarina K.
Australia
Very good. Satisfied
Very good. Satisfied
05/05/2020
Tolman Self Care
Thanks for the review Katarina! All the best.
03/15/2020
Laura C.
Australia
Activated Charcoal
Love this product!!! Mum had a sore tooth and healed it by using Activated Charcoal and oil pulling daily for a week :)
Could you please help?
I have bought that product as to replace my toothpaste. We get recommended to dip our toothbrush into coconut oil to then into the charcoal. However I can't stand the coconut oil, I've tried but I really can't. What alternative could you suggest instead of the coconut oil? Thank you!
Natural Solutions
For the whole family.
We strive to make your everyday cleaner and easier.
Quality Products
To support your self-care journey.
Meticulous when it comes to the quality and integrity of both our products and brand partners we have available in our store, we will never compromise on efficacy, safety or ethics.
No more products available for purchase