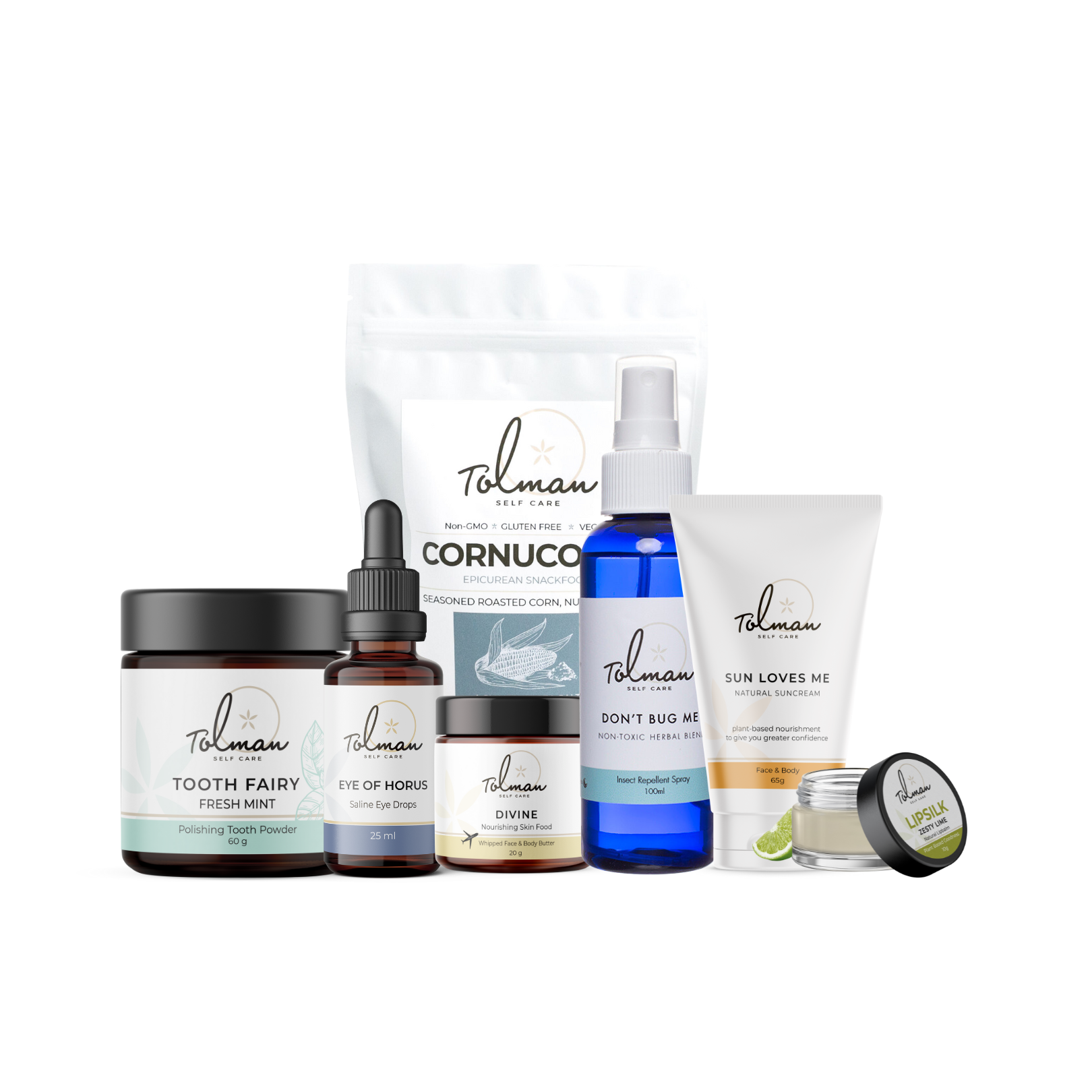 Outdoor Holiday Pack (7 Items)
Going on an outdoor holiday this summer? 

We have you covered with the perfect bundle of self care essentials to take with you as you enjoy your outdoor travels. You'll save 10% off the collective individual item prices when you order this pack.
Don't Bug Me 
This deet-free, natural insect repellent serum is a chemical-free alternative to commercial bug and insect sprays, to help keep little critters at bay when you're outside at play.
Net weight: 100ml
Read more important information about Don't Bug Me here.
Divine Face & Body Butter (Travel)
Divine is an all-natural body butter that hydrates, nourishes, softens and repairs the skin with the raw plant powers of Shea, Almond, Aloe Vera, Avocado and Mango Butters, making it a divine all-over-body skin food.
Net weight: 30g Travel Size
Read more important information about Divine here. 
Tooth Fairy Powder
Tooth Fairy Powder is a non-toxic, natural alternative to fluoride toothpaste that will leave your mouth, teeth, gums and breath feeling fresh and clean.
Net weight: 60g
Read more important information about Tooth Fairy here.  
Lipsilk Lip Balm
Lipsilk is a smooth, fragrant, chemical-free lip balm that helps rehydrate your lips and make them soft and supple for use in both summer and winter.
Net weight: 13g
Read more important information about Lipsilk here.  
Eye of Horus
Eye of Horus is a 100% natural saline solution that can help cleanse and rinse the eyes to avoid bacterial build up and irritation.
It can be used as a daily eye wash to support general optic health.
Read more important information about Eye of Horus here. 
Cornucopia
Cornucopia is a delicious, savoury, wholefood snack, combining organically grown, slow roasted corn kernels, raw nuts, seeds, sea salt and spices.
We'll include Salt Cornucopia. If you would prefer Spice or Sweet flavour, simply let us know in the 'Special Instructions' notes box at the checkout and we'll pack the variety you specify instead. 
Net weight: 140g
Read more important information about Cornucopia here.  

Sun Loves Me
Sun Loves Me is a natural sun cream lotion, prepared without nano particles that are commonly found in many chemical-based sun screen products on the market.
Sun Loves Me provides moderate sun protection with nourishing, hydrating benefits for whenever you're spending short periods of time outdoors in the sun. 
Sun Loves Me gives you the confidence to spend a sensible amount of time in the sun to help prevent burning, whilst giving you peace of mind that the ingredients won't burden your skin. 
This product has not been laboratory SPF tested and therefore is not recommended for prolonged sun exposure or for UV protection. 
Net weight: 65g
Read more important information about Sun Loves Me here.  
Important Note
Sun Loves Me has not been laboratory tested or evaluated for SPF.  It therefore cannot be recommended for UV protection or for prolonged exposure to sunlight.
Additionally, it does not contain waterproof chemicals and therefore should be reapplied after swimming or exercise.
The effectiveness of Sun Loves Me will depend on your skin type, the intensity of sunlight you're exposing yourself to and your susceptibility to burning.
___
Though Eye of Horus is a 100% natural product, if you're unsure of it's suitability for you, we recommend that you consult with your doctor or optometrist prior to use.
___
The products in this pack contains no chemical stabilisers and therefore the consistency of this product may vary from batch to batch.
Everyone's skin type is different, therefore if you're pregnant, breastfeeding or under doctor's care, or if you're unsure whether any of these products are suitable for your skin type, we recommend you consult your doctor or licensed skin care professional prior to use. 
For product ingredients and directions for use, please see the individual product pages. 
Outdoor Holiday Pack (7 Items)
FAQ
What ingredients do you use in your personal care and wholefood products?
Essential Self Care is a pioneer in nature-made products. Ingredients are locally sourced where possible. For a detailed description of the ingredients in each product we offer, please review the individual product description.
Do you have a rewards program?
Yes, we sure do!

Self Care Dollars is our loyalty rewards program for our valued Essential Self Care customers.
The program rewards you by automatically earning you dollars (points) every time you place an order for signature products in our store. You can then redeem points for a future purchase once you have accumulated enough Self Care Dollars in your account.

We have lots of information on how our rewards program works here.
What are your most popular products?
As a family owned and operated team, we have worked tirelesly over the years to create a range of very popular self-care products we believe every home should always have on hand.

These popular products can be found in our Signature Collection.
I'm not sure if a product is suitable, can you help me?
We have an enormous customer review section on our website where you'll find REAL reviews from REAL people. This is a great way to see feedback from others memebers of our community and can help you determine if a product is up your alley.

Alternatively, we do our best to provide lots of detail in the product descriptions on our website with product usage reccomendations, ingredients and more.

If you have further enquries, please feel free to reach out to our friendly team and we'll do our best to help.
Shipping
Australian Orders
For deliveries within Australia, parcels are shipped with Aramex and Australia Post, depending on whether the address is local, remote or listed as a PO Box. Shipping is $9.90 for Australian orders below $199. It is FREE for orders over $199.
We also offer express shipping as an optional service when you reach the checkout. For more info, please click here.
International Orders
For international deliveries, parcels are shipped with Australia Post International.

We offer FREE international shipping for international orders over $500.

For international orders less than $500, shipping charges vary and are calculated at check out by Australia Post delivery rates based on parcel weight. For more info, please click here.

More Info
Family Owned & Operated
We're an Australian small-business that believes in the power of self care as a foundation for everyday health and wellbeing. When you shop with us, you're supporting our local family business - Thank you!
Save Time & Shop With Our App
Enjoy our quick and easy checkout system by placing your order via our app (now, or next time)! Keep track of past orders, receive limited time offers plus so much more! Available on iphone and ipad only at this time.
Save $15 OFF First Order
To receive $15 off your first order and to receive our free weekly blog content and special product offers, simply join our community via the opt in at the bottom of this page.
Natural Solutions
For the whole family.
We strive to make your everyday cleaner and easier.
Quality Products
To support your self-care journey.
Meticulous when it comes to the quality and integrity of both our products and brand partners we have available in our store, we will never compromise on efficacy, safety or ethics.
No more products available for purchase