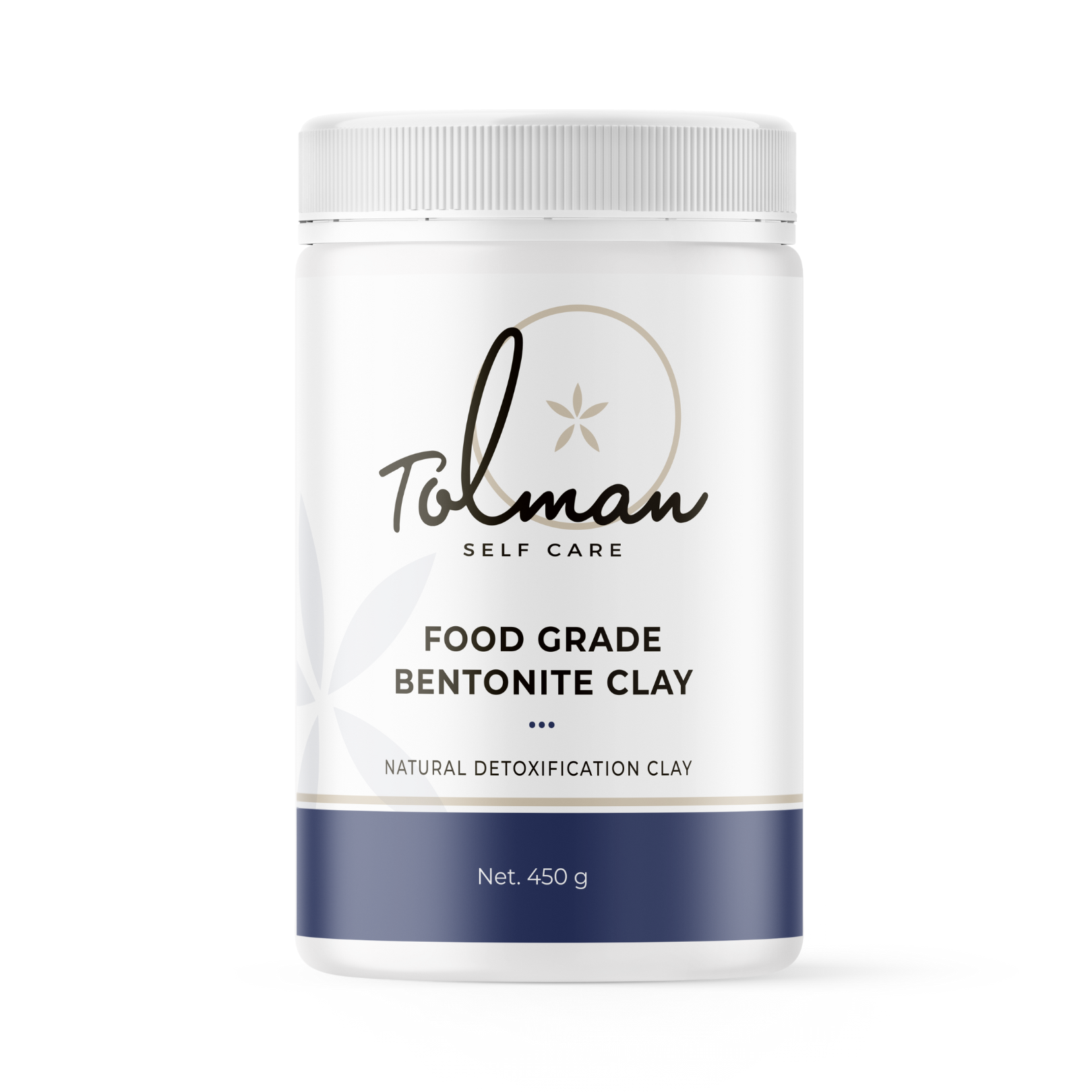 Bentonite Clay | Australian Food Grade Organic
Bentonite Clay is a completely natural "binding" clay, that has been revered by traditional cultures for centuries for its health promoting qualities.
A soft, fine powder with a slightly gritty taste, when mixed with water, Bentonite Clay expands and acts like a porous sponge, absorbing impurities so that they can be removed from the body.
Common applications range from internal cleansing, to DIY face masks, body wraps, clay baths, foot baths and other topical uses.
Product Information
Bentonite Clay is mineral rich, and due to its high pH, is known to have an alkalising effect on the body.
The negatively charged elements naturally contained within the clay, attract positively charged impurities and toxins within the body and skin, binding them for release.
Bentonite Clay is a common ingredient in natural products such as digestive aids and detox face masks.  It can be mixed with water and consumed as a drink, or used externally on the skin in the form of a purifying bath, or as a face and body mask to help remove excess oil and impurities.   
Locally sourced, Australian food grade Bentonite Clay, is among the finest in the world and is fantastic for supporting general wellness.
Use
Drink - Add one teaspoon to water or juice, mix briskly and drink.
Body – Mix one part clay to two parts water to make a detoxifying mask. Apply a thin layer to the skin. Allow to dry and then wash off.
Bath – Add 1/2 cup to 1 cup to a warm running bath for a remineralising and detoxifying bath.
Ingredients
Organic Australian Food Grade Bentonite Clay
Net Weight: 450g
Important Note

This Bentonite Clay is a natural, food grade product. However, if you are on medication, breastfeeding or pregnant, or unsure about it's suitability for you, please consult your health care professional prior to use. 
Bentonite Clay | Australian Food Grade Organic
FAQ
What ingredients do you use in your personal care and wholefood products?
Essential Self Care is a pioneer in nature-made products. Ingredients are locally sourced where possible. For a detailed description of the ingredients in each product we offer, please review the individual product description.
Do you have a rewards program?
Yes, we sure do!

Self Care Dollars is our loyalty rewards program for our valued Essential Self Care customers.
The program rewards you by automatically earning you dollars (points) every time you place an order for signature products in our store. You can then redeem points for a future purchase once you have accumulated enough Self Care Dollars in your account.

We have lots of information on how our rewards program works here.
What are your most popular products?
As a family owned and operated team, we have worked tirelesly over the years to create a range of very popular self-care products we believe every home should always have on hand.

These popular products can be found in our Signature Collection.
I'm not sure if a product is suitable, can you help me?
We have an enormous customer review section on our website where you'll find REAL reviews from REAL people. This is a great way to see feedback from others memebers of our community and can help you determine if a product is up your alley.

Alternatively, we do our best to provide lots of detail in the product descriptions on our website with product usage reccomendations, ingredients and more.

If you have further enquries, please feel free to reach out to our friendly team and we'll do our best to help.
Shipping
Australian Orders
For deliveries within Australia, parcels are shipped with Aramex and Australia Post, depending on whether the address is local, remote or listed as a PO Box. Shipping is $9.90 for Australian orders below $199. It is FREE for orders over $199.
We also offer express shipping as an optional service when you reach the checkout. For more info, please click here.
International Orders
For international deliveries, parcels are shipped with Australia Post International.

We offer FREE international shipping for international orders over $500.

For international orders less than $500, shipping charges vary and are calculated at check out by Australia Post delivery rates based on parcel weight. For more info, please click here.

More Info
Family Owned & Operated
We're an Australian small-business that believes in the power of self care as a foundation for everyday health and wellbeing. When you shop with us, you're supporting our local family business - Thank you!
Save Time & Shop With Our App
Enjoy our quick and easy checkout system by placing your order via our app (now, or next time)! Keep track of past orders, receive limited time offers plus so much more! Available on iphone and ipad only at this time.
Save $15 OFF First Order
To receive $15 off your first order and to receive our free weekly blog content and special product offers, simply join our community via the opt in at the bottom of this page.
Natural Solutions
For the whole family.
We strive to make your everyday cleaner and easier.
Quality Products
To support your self-care journey.
Meticulous when it comes to the quality and integrity of both our products and brand partners we have available in our store, we will never compromise on efficacy, safety or ethics.