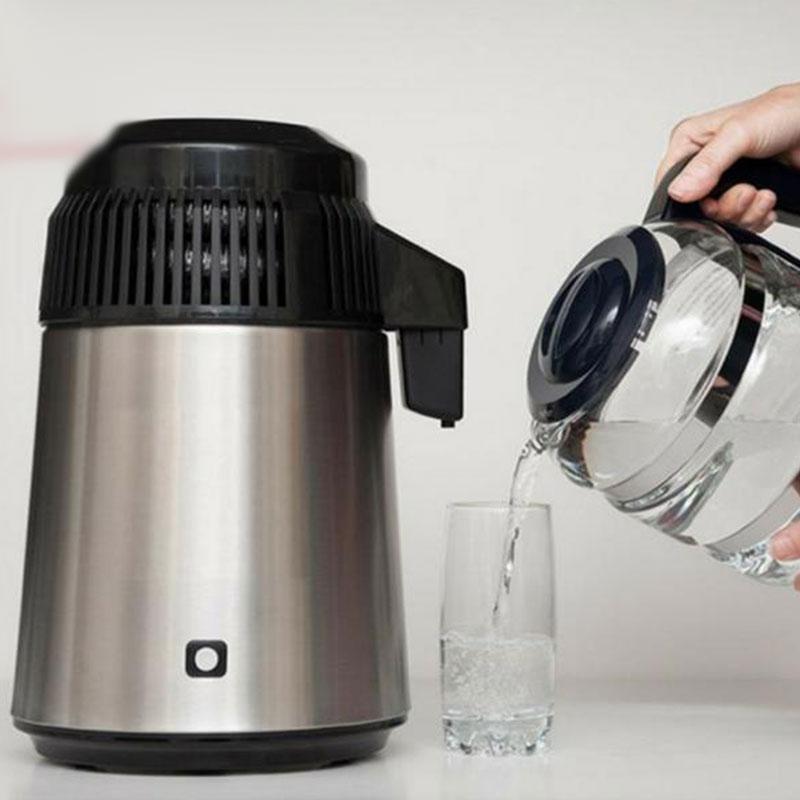 Water Distiller Spring Flow Steam with Glass Jug
A stainless distiller, complete with the 4 liter glass collection jug which has a nozzle with glass sleeve inside. Comes with 6 carbon sachets and cleaner.
Steam Distillers provide you with purified drinking water, remove chemical fluoride – close to 100% purity – from ANY fresh water supply. Removes contaminants including: bacteria, giardia, viruses, chlorine, VOC's, nitrates, fluoride, arsenic, lead, zinc, iron and other heavy metals. 
Perfect for making sterilised water for autoclaves and colloidal silver.
As used by hundreds of dentists, vets and medical facilities in NZ and Australia.
Simply place in sunshine for 20-30 minutes to remineralise after the distillation process - alternatively, you can place a couple of Himalayan Salt crystals into the water if sunshine is not available.
Read more on the blog: Water - Nature's Best & why it's critical to life
The steam distiller takes 4-5 hours to turn any water into 4 litres of pure drinking water, at its best. 
Fill, Plug in, Push button start, and all the work will be done for you.
A replacement descaler & cleaner for your water distiller is available here. 
A replacement carbon sachets is available here. 
For international orders a $70.00 freight charge applies for this item.  
Product Info
Plug in and go – no installation required
Stainless steel exterior finish
Stainless steel underlid
Stainless steel boiling chamber
Stainless steel cooling coil
Automatic shutoff at end of cycle
One 4 litre glass collection jug incl filter nozzle.
Comes with 6 carbon sachets and cleaner, enough for 6 months.
Benefits
Removing Contaminants
Elimination of Chemicals
No Additives

Prevents water born diseases

Absorbs toxic substances from the body and eliminates them
Less expensive than purchasing distilled water for a long period of time
Filtration Process

Steam rises from the surface of the boiling water leaving behind heavy metals, dissolved solids and other impurities, killing any bacteria, viruses, cryptosporidium and giardia. These remain in the boiling chamber as a residue which is easily removed by the cleaning crystals supplied with your steam distiller.
The steam rises to the top of the boiling chamber, entering the fan-cooled stainless steel cooling duct. This turns the steam back into water. Although this water is now classified as pure, your Steam Distiller includes a post-filtration filter (good for one month) as a final precaution to remove any residues of organic chemicals. The filter is needed to remove the final residue of chemicals such as chlorine which may rise with the steam.
Use

This water distiller comes with instructions. 
Warranty

Spring Flow has a one year warranty for parts and labour. In order to proceed with the warranty policy, you must complete the warranty form that comes in the Distiller box with your order. You will need to speak to the manufactures directly. Tolman Self Care only re-sell the product. We do not manufacture the item. 
Remineralisation

It is important to add unprocessed, unrefined salt to your distilled water. 
Recommended amount:
Add half a teaspoon of Himalayan Crystal Salt to roughly 3.7L of water
Or, add a pinch of salt in a 350ml glass 
Why Himalayan Crystal Salt? What's so special about it? Why not other salts?
Many salts are stripped of minerals and bleached. Himalayan crystal salt is mined from ancient sea beds, so it is pure from modern environmental toxins. It provides 60+ trace minerals, along with your needed electrolytes, plus it has a unique ionic energy that is released when the salt is mixed with water. This means the salt is the right size and proper action of molecules for ideal synergy with your body and cells.
Water Distiller Spring Flow Steam with Glass Jug
FAQ
What ingredients do you use in your personal care and wholefood products?
Essential Self Care is a pioneer in nature-made products. Ingredients are locally sourced where possible. For a detailed description of the ingredients in each product we offer, please review the individual product description.
Do you have a rewards program?
Yes, we sure do!

Self Care Dollars is our loyalty rewards program for our valued Essential Self Care customers.
The program rewards you by automatically earning you dollars (points) every time you place an order for signature products in our store. You can then redeem points for a future purchase once you have accumulated enough Self Care Dollars in your account.

We have lots of information on how our rewards program works here.
What are your most popular products?
As a family owned and operated team, we have worked tirelesly over the years to create a range of very popular self-care products we believe every home should always have on hand.

These popular products can be found in our Signature Collection.
I'm not sure if a product is suitable, can you help me?
We have an enormous customer review section on our website where you'll find REAL reviews from REAL people. This is a great way to see feedback from others memebers of our community and can help you determine if a product is up your alley.

Alternatively, we do our best to provide lots of detail in the product descriptions on our website with product usage reccomendations, ingredients and more.

If you have further enquries, please feel free to reach out to our friendly team and we'll do our best to help.
Shipping
Australian Orders
For deliveries within Australia, parcels are shipped with Aramex and Australia Post, depending on whether the address is local, remote or listed as a PO Box. Shipping is $9.90 for Australian orders below $199. It is FREE for orders over $199.
We also offer express shipping as an optional service when you reach the checkout. For more info, please click here.
International Orders
For international deliveries, parcels are shipped with Australia Post International.

We offer FREE international shipping for international orders over $500.

For international orders less than $500, shipping charges vary and are calculated at check out by Australia Post delivery rates based on parcel weight. For more info, please click here.

More Info
Family Owned & Operated
We're an Australian small-business that believes in the power of self care as a foundation for everyday health and wellbeing. When you shop with us, you're supporting our local family business - Thank you!
Save Time & Shop With Our App
Enjoy our quick and easy checkout system by placing your order via our app (now, or next time)! Keep track of past orders, receive limited time offers plus so much more! Available on iphone and ipad only at this time.
Save $15 OFF First Order
To receive $15 off your first order and to receive our free weekly blog content and special product offers, simply join our community via the opt in at the bottom of this page.
Natural Solutions
For the whole family.
We strive to make your everyday cleaner and easier.
Quality Products
To support your self-care journey.
Meticulous when it comes to the quality and integrity of both our products and brand partners we have available in our store, we will never compromise on efficacy, safety or ethics.