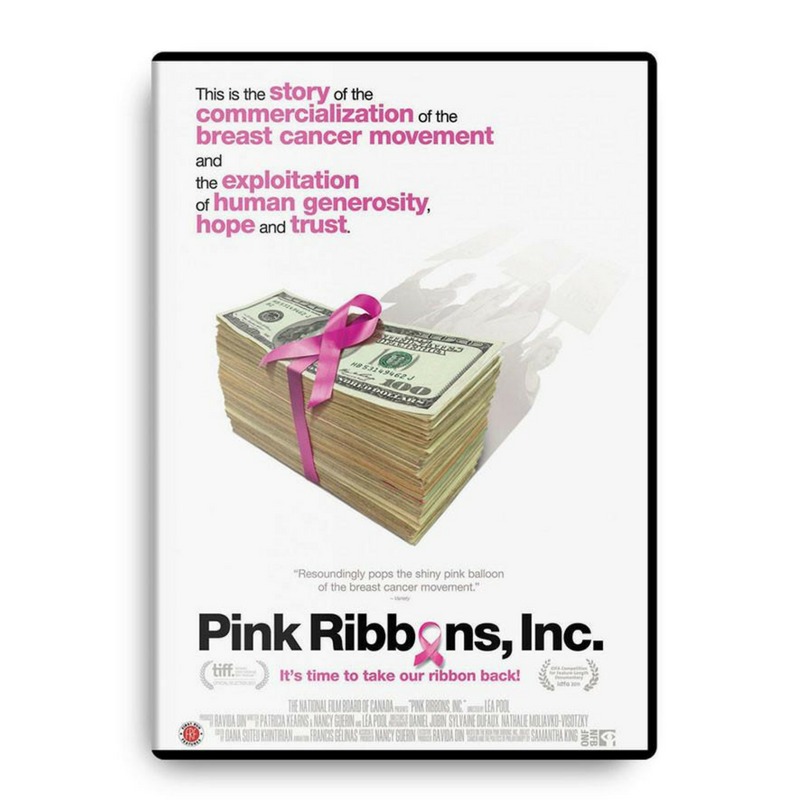 Pink Ribbons Inc | DVD
$6.95
Regular price
$20.00
SALE
Pink Ribbons, Inc. shows how the devastating reality of breast cancer has become clouded by a shiny, pink story of success.
About
It's time to face the facts about "pink" product marketing and start saving lives with solid prevention programs, more research into natural therapies and access to solid information on nutrition instead. 
Approx. Running Time: 98 Minutes
Why you should watch this film 
If there's one reason that you could benefit from watching this film, it's to understand the cancer industry and how this campaign really works.
'Pink Washing' is a campaign designed to raise awareness, which is great, but in truth may be actually helping contribute to the cancer industry.
The term 'Pink Washing' is used when companies colour their products pink or add a pink ribbon to their packaging to entice people to buy.
Unfortunately what happens when people buy, where the money goes, how the money is spent is a problem that is largely overlooked.
What you'll discover in this film
Who really benefits from pink-washing.
The disconnect between research and results. 
How breast-cancer research is poorly coordinated and favors drug companies.
How breast cancer fundraising may boost corporate profits and brand awareness more than it benefits people with the disease.
The fact that it raises millions of dollars for the cause, yet prevention in highly underfunded and breast cancer rates keep rising.
That many companies profiting from these campaigns may actually be contributing to the breast cancer by selling known carcinogens.
Why so many women feel alienated by an approach which can be seen as a "tyranny of cheerfulness"
Reviews
"Debunks the 'comfortable lies' and corporate doublespeak that permeate the breast cancer movement/industry."
- Variety
"This could be the most important documentary of the year. Forget that: of the decade."
- Trust Movies
Pink Ribbons Inc | DVD
$6.95 AUD
Regular price
$20.00 AUD
FAQ
What ingredients do you use in your personal care and wholefood products?
Essential Self Care is a pioneer in nature-made products. Ingredients are locally sourced where possible. For a detailed description of the ingredients in each product we offer, please review the individual product description.
Do you have a rewards program?
Yes, we sure do!

Self Care Dollars is our loyalty rewards program for our valued Essential Self Care customers.
The program rewards you by automatically earning you dollars (points) every time you place an order for signature products in our store. You can then redeem points for a future purchase once you have accumulated enough Self Care Dollars in your account.

We have lots of information on how our rewards program works here.
What are your most popular products?
As a family owned and operated team, we have worked tirelesly over the years to create a range of very popular self-care products we believe every home should always have on hand.

These popular products can be found in our Signature Collection.
I'm not sure if a product is suitable, can you help me?
We have an enormous customer review section on our website where you'll find REAL reviews from REAL people. This is a great way to see feedback from others memebers of our community and can help you determine if a product is up your alley.

Alternatively, we do our best to provide lots of detail in the product descriptions on our website with product usage reccomendations, ingredients and more.

If you have further enquries, please feel free to reach out to our friendly team and we'll do our best to help.
Shipping
Australian Orders
For deliveries within Australia, parcels are shipped with Aramex and Australia Post, depending on whether the address is local, remote or listed as a PO Box. Shipping is $9.90 for Australian orders below $199. It is FREE for orders over $199.
We also offer express shipping as an optional service when you reach the checkout. For more info, please click here.
International Orders
For international deliveries, parcels are shipped with Australia Post International.

We offer FREE international shipping for international orders over $500.

For international orders less than $500, shipping charges vary and are calculated at check out by Australia Post delivery rates based on parcel weight. For more info, please click here.

More Info
Family Owned & Operated
We're an Australian small-business that believes in the power of self care as a foundation for everyday health and wellbeing. When you shop with us, you're supporting our local family business - Thank you!
Save Time & Shop With Our App
Enjoy our quick and easy checkout system by placing your order via our app (now, or next time)! Keep track of past orders, receive limited time offers plus so much more! Available on iphone and ipad only at this time.
Save $15 OFF First Order
To receive $15 off your first order and to receive our free weekly blog content and special product offers, simply join our community via the opt in at the bottom of this page.
Natural Solutions
For the whole family.
We strive to make your everyday cleaner and easier.
Quality Products
To support your self-care journey.
Meticulous when it comes to the quality and integrity of both our products and brand partners we have available in our store, we will never compromise on efficacy, safety or ethics.