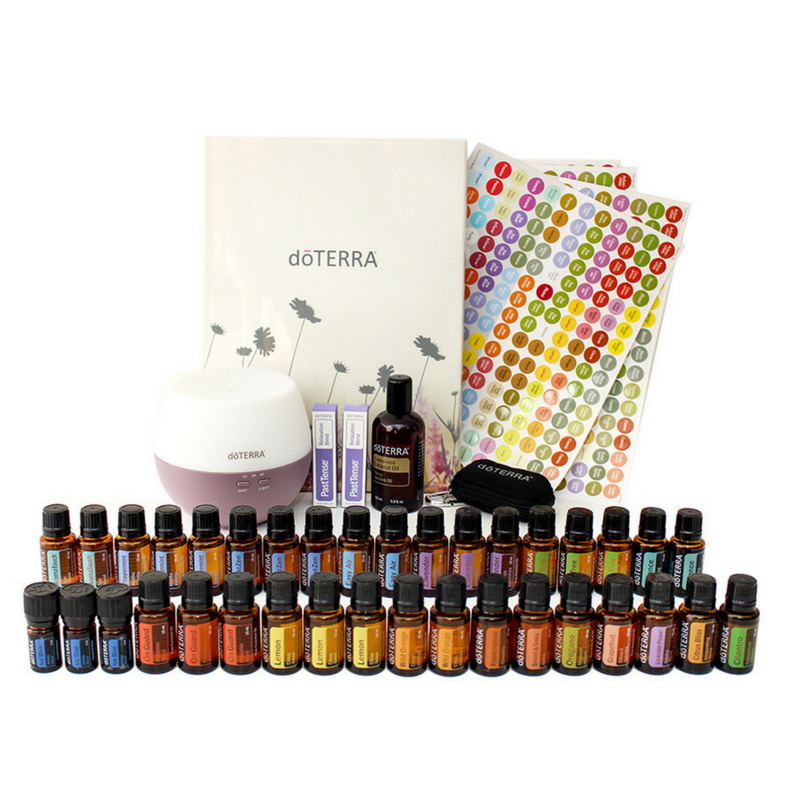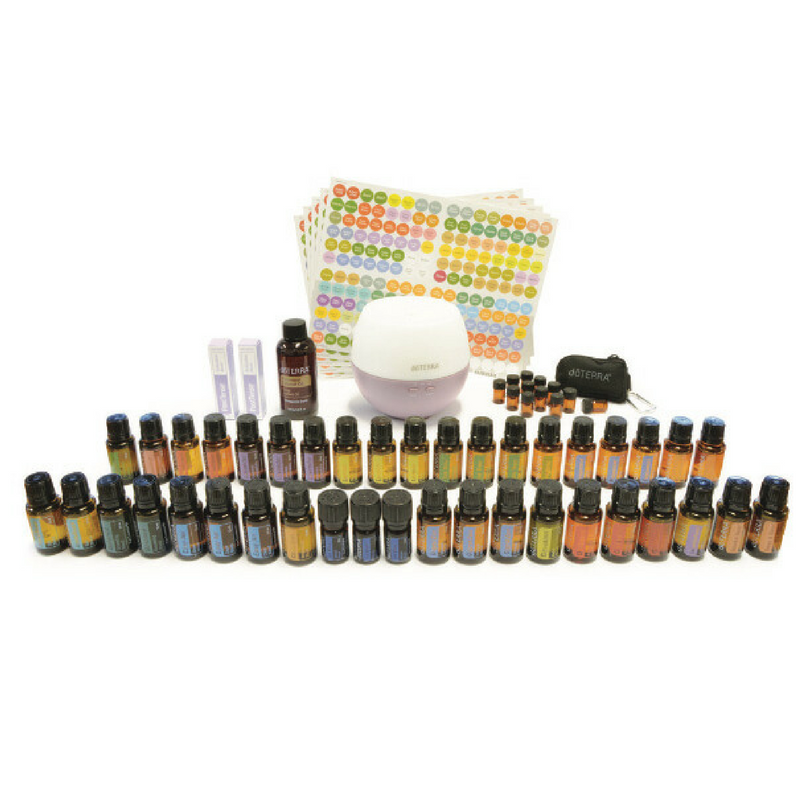 Oil Sharing Kit with Wholesale Account dōTERRA
INCLUDES 12 MONTH WHOLESALE ACCOUNT!
This kit contains ONE BOTTLE OF EACH: Oregano, Lavender Peace, Elevation, Citrus Bliss®, Cilantro and Grapefruit. (15 mL)
TWO BOTTLES OF EACH: Frankincense, Wild Orange, AromaTouch®, Balance, PastTense® (10 mL) and Smart & Sassy®.
PLEASE PROVIDE YOUR DATE OF BIRTH IN THE NOTES SECTION AS YOU CHECK OUT SO WE CAN SET UP YOUR ACCOUNT WITH DOTERRA. 
The Ultimate Essential Oil package for the experienced - or ready to get serious - Natural Wellness seekers and sharers in our communivty.
What does the dōTERRA Oil Sharing Kit include?
One 15ml Bottle Each of:
Oregano
Lavender Peace
Elevation
Citrus Bliss
Cilantro
Grapefruit
Two 15ml Bottles Each of:
Frankincense
Wild Orange
AromaTouch
Balance
PastTense (10ml)
Smart and Sassy
Three 15ml Bottles Each of:
Lemon
Tea Tree
Peppermint
DigestZen
Lavender
Easy Air
On Guard
Ice Blue (5ml)
Also Includes: 
dōTERRA Petal Diffuser
Cap Stickers for Common Oils (5 Sheets)
1x Bottle Fractionated Coconut Oil
Sample Keychain 8-vial (Black)
Wholesale Account  Introductory Packet and Enrolment
Welcome Pack, Education & Support  from our in house doTERRA Essential Oil expert  
___
By purchasing this kit, you'll have your very own dōTERRA 12 month wholesale account. You'll get 25% off retail prices - There are no minimum spends, no monthly volume, just wholesale prices! 
You will receive an email and a welcome gift from us along with support with your dõTERRA journey. 
___
Possible skin sensitivity. Keep out of reach of children. If you are pregnant, nursing, or under a doctor's care, consult your physician. Avoid contact with eyes, inner ears, and sensitive areas. 
Terms & Conditions
By purchasing this item, you agree that you have read and understood the following Terms & Conditions listed for this product.
You will only purchase ONE starter kit through this website as each kit is linked to creating a wholesale account with doTERRA.
This kit is only available for purchase for Australian residents.
You will need to enter your Date of Birth at the checkout or we will be unable to process your order.
You will receive your own doTERRA Wholesale Customer account which gives access to doTERRA products at 25% off RRP for one year with the option to renew membership for $25. You will receive a free bottle of Peppermint essential oil from doTERRA when you renew your membership.
You will become a part of the Essential Selfcare Collective doTERRA team and your enroller and primary support person will be Inga Truscott (doTERRA Platinum Leader & Founder of Essential Collective). If you are currently speaking with another doTERRA Wellness Advocate or want to be placed in a different team please do not purchase on this website.
This item will be shipped from your nearest doTERRA warehouse and is not available for pick up.
This product is not for people who already hold a doTERRA wholesale membership.
You will receive a welcome package in the post, educational email series to help use your oils, access to our Essential Selfcare Collective members only facebook groups.
This order is for your starter kit with Wholesale Membership only. If you wish to order extra oils later, all subsequent oil purchases should be made through your doTERRA membership account (saving you 25% off RRP).
Oil Sharing Kit with Wholesale Account dōTERRA